Closing Munich Chapter 1
PRAGUE -- It's shortly after midnight Monday morning here in Prague, and we've arrived safely in the capital city of the Czech Republic. It was kind of cool to cross the border. A Czech border guard walked through each compartment in our train, followed closely by a German police officer. In succession, they each stamped our passports-- The Czech officer welcomed us in, and then the German police officer stamped us out of Germany. The stamps are pretty cool-- The German one has a little picture of a train on it.
Scott and I manged to stay out of trouble leaving Munich. At the train station, we traded forty of our remaining Euros for 800 Crowns, which are the currency here in Prague. We are officially carrying three different types of currency! Of course, we had no idea what a Crown was when we got to the train station, though we did know the money in Prague was different than in Germany. Upon arriving in the center of Prague, we bought a Coke Lite to get change for the metro.
Can't really give you an early read on Prague, except to say the metro is very clean. While on the train, Scott and I mapped our plan for day 1 here tomorrow, which will include visiting the Castle across the river and walking on the Charles bridge over the river Vltava.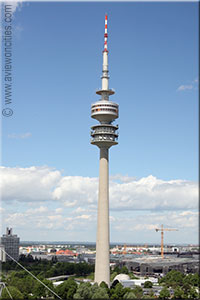 Before leaving Munich on Sunday, we had breakfast at the
Weisses Brauhaus
(boiled white sausages) downtown, and we took a trip out to see the Olympic village, which is north of the city center. Scott and I got into an argument on whether space needles, such as the one in Munich, are becoming "more common." (Scott says they are. He has stood next to the one in Toronto, seen pics of the one in Seattle and thinks there's at least one somewhere in Asia. In fact, there's even one in Prague. Still, despite all the evidence, Ross believes space needles are not, in fact, becoming
more
common. What we have here is a difference of opinion). If you have thoughts, leave a comment to this post, and we know you have thoughts. We did take some pictures from the restaurant in the needle (though it was cloudy), and we did see the Olympic village where the tragic events in 1972 took place.
We were sad to leave Munich; it's a special city that was good to us. But we know we will be back there for one more night later this week.
Speaking of Munich, a couple of additional random facts:
-- You can't pry a woman from her Schmuck in Munich. ("Schmuck" is the word for jewelry, so we think, given where it appears in stores there).
-- Ashton Kutcher has apparently set up a phone company in Munich. T-Mobile in German is "T-Punkt." All kidding aside, we did have to use a T-Punkt phone at the Munich train station to call ahead and make sure we had guaranteed late arrival here in Prague. Once again, everyone speaks English...